Casita Maria Fiesta 2018 was at the Plaza Hotel in Midtown, Manhattan on Tuesday, October 16, 2018 with cocktails at 7:30 pm followed by dinner and dancing from 8:30 pm until late.
Jacqueline Weld Drake, a tireless bundle of pure energy originally from Venezuela, honored Colombian hotelier and real estate developer Dayssi Olarte de Kanavos, Brazilian Valentino brand ambassador Carlos Souza and CNN correspondent Mary Snow for their contributions to the worlds of art, philanthropy and business.
Brazilian Bossa Nova legend Bebel Gilberto surprised us all with a few songs. After a wonderful dinner with many new friends, the Bob Hardwick Sound band kicked it up and we danced the night away in the Grand Ballroom at The Plaza Hotel.
---
---
It was all for Casita Maria Center for Arts & Education, the charitable school for children in the South Bronx, Harlem and East Harlem whose model of education and support works every day to keep over 1,000 kids out of trouble and on a path to personal success in our country.
---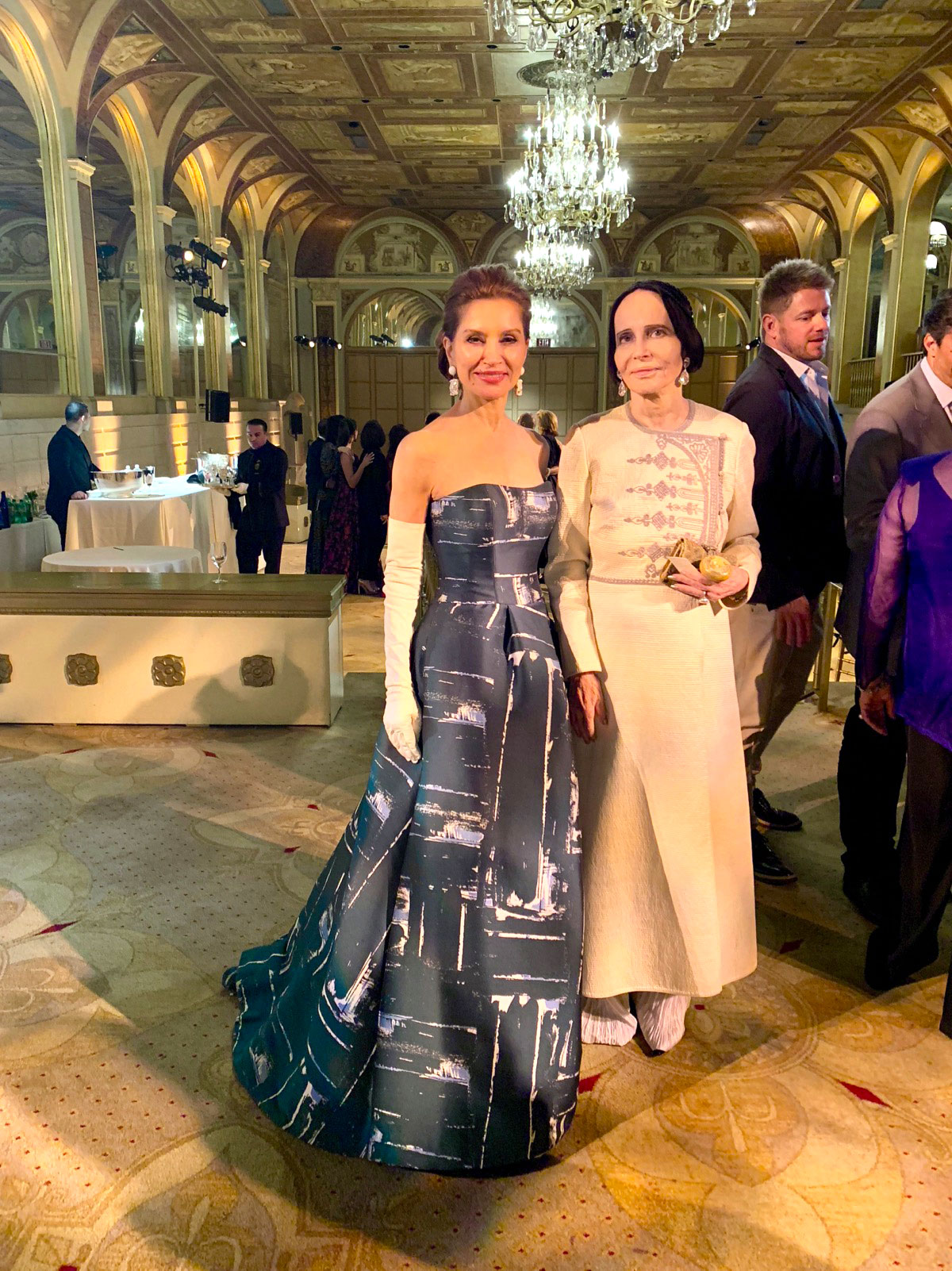 ---
There were many belles of the ball on this night and so many beautiful dresses. I can't tell you how many of the socialites in attendance said that the Casita Maria Fiesta is one of the very best galas in New York City.
---
---
---
---
---
---
---
"I am proud to say that in 2018, our programs daily serve more than 1,000 promising young members of the Bronx, East Harlem and Harlem communities" said Board Chairman Jaqueline Weld Drake. She went on to say, "Looking ahead to what's in store in 2019 and beyond, Casita Maria will continue to advance our mission and work to build a brighter, more creative, and culturally rich future for our children and all future residents of the South Bronx and East Harlem."
Congratulations to Jacqueline and the entire Fiesta 2018 team.
You don't want to miss this grand night next year.
---
---
If you didn't make it, you can still donate to Casita Maria at www.casitamaria.org
---
---
Casita Maria Center for Arts & Education
Casita Maria offers high quality, innovative in and after school arts programming to over 1,000 students daily in their state of the art facility in the South Bronx. Casita's enriching programs produce engaged, well-rounded individuals, who go on to fulfill their dreams.
Their model really works. Renowned alumni include Tito Puente, the King of Latin Music; Tina Ramirez, the founder of Ballet Hispánico; Lorraine Cortes-Vazquez, the 65th Secretary of State of New York; Edwin Torres, New York State Supreme Court Judge and author, Grandmaster Melle Mel, the hip hop pioneer; and many other great Americans.
---
Casita Maria Fiesta 2018
The Gala honors Dayssi Olarte de Kanavos, Mary Snow and Carlos Souza.
The Dinner Chairmen are Jacqueline Weld Drake, Prince Dimitri of Yugoslavia and Carlos Mota.
This year's Honorary Chairs are Elizabeth Peabody, Christine Schwarzman and Lynn Wyatt.
Honorary Fiesta Chairmen
Their Serene Highnesses Prince and Princess D'arenberg
Violaine and John Bernbach
The Honorable and Mrs. Paul Cejas
Patricia and Gustavo Cisneros
John Demsey
Joanna Fisher
Audrey and Martin D. Gruss
Agnes Gund
Pilar and Juan Pablo Molyneux
Veronique and Bob Pittman
Pepita Serrano
Daisy M. Soros
Hutton Wilkinson
Latin American Chairmen
Ana Cristina Alvarado
Palm Beach Chairmen
Mr. and Mrs. J. Pepe Fanjul
Thomas C. Quick
Baltimore Chairmen
Suzi Cordish
International Chairmen
Raul Suarez
D.C. Chairmen
The Honorable and Mrs. William A. Nitze
Fiesta Vice Chairmen
Estrellita and Daniel Brodsky
Mario Buccellati
Catholic Charities of The Archdiocese Of New York,
Msgr. Kevin Sullivan
Rebecca and Miguel Fuentes, Jr.
Michèle Gerber Klein
Kevin Kwan
Annabelle and Alberto Mariaca
Maria Eugenia Maury and William Haseltine
Malu and Sergio Millerman
Fiesta Co-Chairmen
Tony Bechara
Benigno Rodriguez-Cubeñas
Yolanda Santos
Adrienne and Gigi Vittadini
Pachanga Chairs
Adriana Echavarria-Eisenhower
Peter Levin
Gabriel Rivera-Barraza
Anthony Souza
Sean Souza
Fiesta Committee
Jill and Richard Blanchard
Maria Bonetti
Geoffrey N. Bradfield
Pippa Cohen
Kristi Witker Coons
Arlene Dahl and Marc Rosen
Marvin H. Davidson Foundation
Hrh Prince Michael De
Habsbourg-Lorraine And
Andres E. Rodriguez
Jenny Brorsen and Rich Demartini
Rita Dimartino, Chairman, Board Of Trustees,
Bronxcare Health System
Frederick Eberstadt
Thomas Enders nd Elise Thoron
Emilia and Brian Fanjul
Sissi Fleitas-Refaie
Robert and Lydia Forbes
Steven Ganeless
Zani Gugelmann
Susan Gutfreund
Jessica Hart
Valesca Guerrand Hermes
Rachel Hovnanian
Bicky and George Kellner
Margo Langenberg
The Leonard & Judy Lauder Fund
Adam Lippes
Ambassador and Mrs. John L. Loeb
Macy's
Karla Martinez
Mary Mcfadden
Anne Mcnally
Muffy and Donald K. Miller
Liz and Jeff Peek
Natalya Poniatowski
Encarnita and Robert Quinlan
Ann Rapp
Pilar Crespi and Stephen Robert
Nicky Hilton Rothschild
Inga Rubenstein
Beatrice Santo Domingo
The Frances G. Scaife Foundation
Lisa and David T. Schiff
Louise Stephaich
Barbara and Donald Tober
Valentino
Pachanga Committee
Byrdie Bell
Sofia Sanchez De Betak
Lauren Remington Platt
Victor Roquette
Patti Ruiz-Healy
Ann-Hunter Van Kirk
Sabrina Wirth
---
Casita Maria Fiesta 2018 Tickets
Tickets start at $400.
If you didn't make it, you can still donate to Casita Maria at www.casitamaria.org
---
Visit Casita Maria Fiesta 2018
The Plaza Hotel
768 Fifth Avenue, New York, NY 10019
(at Central Park South)
Midtown, Manhattan
Cocktails at 7:30 pm
Dinner and dancing at 8:30 pm
See you there!
---
For more information, visit www.casitamaria.org
---